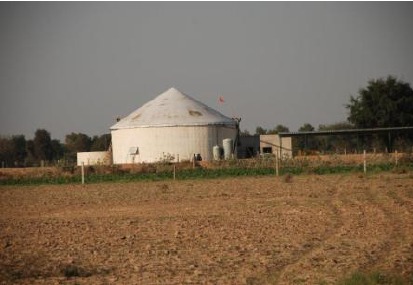 CNG Conversion Biogas Plant
Product Code : CNG Conversion
Product Description
CNG Conversion Biogas Plant :-

We are renowned as one of the chief CNG Conversion Biogas Plant Manufacturers, Exporters, and Suppliers in India. We are very shortly introducing the Bio gas Header in the general Bio gas Plant. The conventional MS domes require lot of maintenance and the pressure of the gas depends totally on the dome itself. Hence, we worked on FRP Gas Domes in place of MS Domes. The FRP Gas Domes are easy to install and easy to maintain the gas digester also. Further Bio gas Plant itself requires zero maintenance.
We Are Having A lots Of Models By
Size Wise
and also We have Different categories Like......
DOMESTIC Biogas Plant

FOOD WASTE Biogas Plant

Industrial Biogas Plant

PSTR Biogas Plant === (PSTR TECHNOLOGY - PARTIAL STIRRED TANK REACTOR)

CSTR Biogas Plant === (CSTR TECHNOLOGY - CONTINUOUS STIRRED TANK REACTOR)
Features:
* Clean Technical concepts
* Performance and Economic Efficiency Calculation
* Extensive Conceptualization & Engineered Planning
* Sleek, Compact and Automated Plant
* Optimization
* Construction on turn-key and BOT systems
* Operation and Maintenance
PRODUCT DETAILS:-
CONDITION :- New

MATERIAL :- FRP

BRAND NAME :- "FGP"

COUNTRY OF ORIGIN :- Rajkot,Gujarat,india

Capacity: Also Having Different Kinds in it.
PACKAGING & DELIVERY :-
PACKAGING DETAIL :- Standard Packaging Box & with Carton Packaging
Delivery DETAILS :- 10 - 15 Days After Deposit
Advantages :-
Production of renewable energy (heat, light, electricity)

Reduction of greenhouse gas emissions through methane recovery

Reduction of solids to be handled (e.g. less excess sludge)

Transformation of organic wastes into high quality fertilizer

Improvement of hygienic conditions through reduction of pathogens, worm eggs and flies

Process stability (high-loads can be treated but anaerobic sludge can also be preserved for prolonged periods without any feeding)

Relatively low construction costs

The space requirements of anaerobic treatment are lower than for aerobic wastewater treatment systems
Contact Us
CORRESPONDENCE ADD. : 117/4, Pradyuman Park, Opp. Alap Heritage, Satya Sai Road, Kalavad Road, Rajkot, Gujarat, 360005, India
Phone :+917259555628