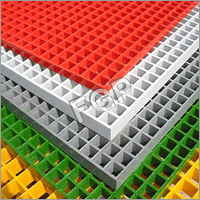 FRP Grating
Product Code : 03
Product Description
FRP GRATING:
Fiberglass Stair Treads
Fiberglass gratings stair treads have consistently reduced accidents in all types of industries. The proven gritted, maximum anti-slip gratings surface has one of the highest degrees of slip resistance ever measured for a walking surface, especially in wet and oily work areas. The integral gritted non-slip gratings surface provides long-lasting worker protection.
Sizes : 38mm thickness.
Any length up to 3660mm x any depth up to 267mm.
Tread Sizes can be cut to size for specific requirements free of charge.
In addition to improving safety standards fiberglass gratings provides excellent chemical resistance is easy to install and offers long term durability. The gritted anti-slip surface has one of the highest degrees of anti-slip resistance ever measured for walking surface. Consideration should be given to installing Fiberglass Reinforced Plastics Stair, Steps, Stair Treads, GRP Stair Treads, Non Slip Stair Treads, Glass fiber Gratings.

Standard Fiberglass Grating - Gritted Surface
Angular Quartz is integrally bonded to the grating top surface, which produces an extremely long-lasting, hardwearing, non-slip flooring. This gritted anti-slip textured grating has one of slip resistance ever measured for a walking surface.

In addition to improving safety standards fiberglass gratings provides excellent chemical resistance is easy to install and offers long term durability. The gritted anti-slip surface has one of the highest degrees of anti-slip resistance ever measured for walking surface. Consideration should be given to installing Fiberglass Reinforced Plastics Stair, Steps, Stair Treads, GRP Stair Treads, Non Slip Stair Treads, Glass fiber Gratings.

Standard Fiberglass Grating -Concave Surface
The anti-slip resistant feature of fiberglass grating is created during the moulding process by the formation of a concave cross-section on the walking surface. The two knife-edges produced by this process provide traction over a wide range of environmental conditions.

In addition to improving safety standards fiberglass gratings provides excellent chemical resistance is easy to install and offers long term durability. The gritted anti-slip surface has one of the highest degrees of anti-slip resistance ever measured for walking surface. Consideration should be given to installing anti-slip flooring, chemical resistant flooring, chemical resistant grating, composite decking, composite flooring, composite structures, corrosion resistant flooring, fiberglass decking, fiberglass flooring, fiberglass mini mesh. These products are ideally suited for access platforms, bleaching areas, drilling platforms, finger jetties, non- slip flooring.

Covered Fiberglass Grating
Covered fiberglass grating is often used in loading and storage areas. Other applications include food processing facilities where covered fiberglass grating walkways prohibit contamination to work surface below. It is also suitable where covered fiberglass grating provides a walking surface and controls subsurface odours. Other uses include walkways over tank tops and vats.

Covered fiberglass gratings is manufactured with chemical resistant resin and includes a fiberglass gritted plate cover to any standard grating thickness. Covered grating offers a strong, level surface for foot or wheeled traffic and provides approximately 30% higher stiffness values than open mesh grating. The standard grit-top surface provides perfect anti-slip flooring. Alternately, a checkered plate top surface may be desirable where fork lift truck operations take place. The smoother surface will allow loaded trucks turn more easily.

In addition to improving safety standards fiberglass gratings provides excellent chemical resistance, is easy to install and offers long term durability. The gritted anti-slip surface has one of the highest degrees of slip resistance ever measured for a walking surface. Consideration should be given to installing fiberglass fabrications, fiberglass reinforced plastics drain covers, glass fibre stairs

Product Specification

Standard grating
Panel size

Weight Kg/m2

Panel weight(kg)

Depth

(mm)

Surface

3m x 1m

5.6

16.8

12

Concave

3m x 1m

5.6

16.8

12

Gritted

2m x 1m

12.1

24.2

25

Concave

2m x 1m

12.1

24.2

25

Gritted

3m x 1m

12.1

36.3

25

Concave

3m x 1m

12.1

36.3

25

Gritted

4m x 1m

12.1

48.4

25

Gritted

3m x 1m

14.5

43.5

30

Gritted

4mx 1m

14.5

58

30

Gritted

2m x 1m

18.2

36.4

38

Concave

2m x 1m

18.2

36.4

38

Gritted

3m x 1m

18.2

54.6

38

Concave

3m x 1m

18.2

54.6

38

Gritted

4mx 1m

18.2

72.8

38

Gritted

3m x 1m

22

66

50

Gritted

3.66m x 1.22m

22

98.2

50

Gritted

3m x 1m

42.5

127.5

63

Gritted

3.66m x 1.22m

42.5

189.5

63

Gritted

Mini Mesh Grating
Panel size

Weight Kg/m2

Panel weight(kg)

Depth

(mm)

Surface

3m x 1m

18.5

55.5

30

Gritted

3m x 1m

18.5

55.5

30

Concave

3m x 1m

24.5

73.5

38

Gritted

3m x 1m

24.5

73.5

38

Concave

Contact Us
CORRESPONDENCE ADD. : 117/4, Pradyuman Park, Opp. Alap Heritage, Satya Sai Road, Kalavad Road, Rajkot, Gujarat, 360005, India
Phone :+917259555628